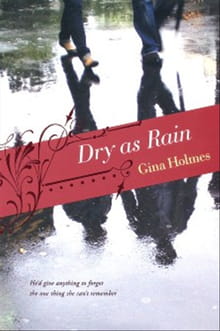 Eric Yoshida has just blown his last chance at a reconciliation with his already estranged wife, Kyra, by committing the cardinal sin of sleeping with his co-worker. As if that wasn't bad enough, the morning after his one night stand begins with a phone call that his wife has been in an accident. Racing to the hospital, he discovers she has sustained a concussion that, while not physically serious, has hindered her ability to remember the details of their troubled marriage. Eric, initially stunned by this turn of events, gradually begins to wonder if he's being given a second chance to make things right with Kyra and start over. Can he have the wife he still loves back in his life without having to tell her about the affair? Or will Kyra's memory eventually dig up the past he longs to leave buried?
Gina Holmes makes the interesting choice of having Dry as Rain told from Eric's point of view. I can't recall the last time I read a novel, written by a woman, that delves solely into the male psyche. Not being a guy myself, I can't say how accurate she is but it's how I imagine the average man's brain works. I felt Eric's frustration, longing and anxiety were well portrayed, plus the relationships between he and his best friend Larry and son Benji rang true. The dialogue was realistic; compelling, but not over-complicated. I did feel the many issues resolved themselves too quickly toward the end of the book. After all the build up to Kyra's memory returning, things seemed to lose steam in the last few chapters. In my opinion, it would have been more interesting had Ms. Holmes spent more time focusing on the after math of Kyra's inevitable realization of her husband's infidelity. I also wanted a little more remorse from Eric for what he had done. Yes, he acknowledged his wrong and wanted to make things right, but it didn't seem he really understood the depth of his betrayal to their marriage and kept expecting Kyra would eventually forgive him. He just came across as too calm, not torn up or grieved enough, about the whole situation. But maybe that's my female point of view clashing with his male outlook?
Either way, I did find this a good read and would check out more of Gina Holmes books if given the chance.
I was given a complimentary copy of this book by Tyndale Publishers in exchange for my honest review.