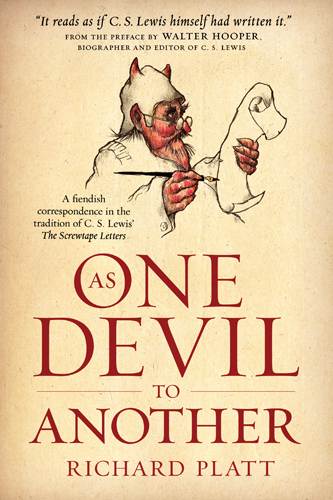 As One Devil to Another is an astonishing debut work that C. S. Lewis's biographer and foremost Lewis authority Walter Hooper calls "a stunning achievement, the finest example of the genre of diabolical correspondence to appear since this genre was popularized by C. S. Lewis." Enter into this chilling and diabolical tale, one that reveals the very tricks and strategies of Hell. Through a series of letters between devils created by Platt, senior devil Slashreap trains his young protégé, Scardagger, to win an individual soul away from Heaven and into their clutches. As the devils plot their way to triumph, they reveal the spiritual dangers and risks we face in today's society. Their frighteningly accurate perspective on issues such as contemporary technology and sexual mores is interwoven with timeless matters such as the power of prayer, the purpose of suffering, and the promises held out by Heaven . . . and Hell. Destined to become a modern classic, As One Devil to Another is a brilliantly written, deeply unsettling perspective on twenty-first-century society . . . a glimpse of ourselves through the eyes of those who have embraced their underworldly existence.
If you like C.S. Lewis' book The Screwtape Letters, then you're going to want to read As One Devil to Another.
If you haven't yet read The Screwtape Letters, you're still going to want to read As One Devil to Another, because it's seriously good.
Richard Platt does an excellent job of communicating a realistic correspondence between the fiendish devil, Slashreap, and his protege, Scardagger. It feels very real, chillingly so, and never once do you doubt the diabolical nature of their intention to corrupt mankind for their ultimate benefit.
The points Mr Platt touch on are valid ones that hit close to home, and may leave you examining all the ramifications behind every day activities that typically seem harmless. (It also helps that this was written with our current society in mind, and covers issues that we all face on a regular basis.)
As One Devil to Another cleverly illustrates the ways Satan uses any means, especially technology, to draw us away from what we should be focusing on. Occupying our minds is his central mission, and he'll do anything to get what he wants.
I don't know that I'd say this is exactly a fun read, but it's definitely captivating, and one you won't soon forget. It possesses some dark humor, and also some very real darkness that comes just from knowing there are truly forces out there who wish us harm, like the devils referenced here. I found myself mentally and spiritually stimulated by this novel, that while fiction, fairly trembles with realism.
I think this book has the potential to become an enduring classic, much like The Screwtape Letters has, and I say kudos to Richard Platt for creating this fiendishly entertaining, eye opening, piece of literature.
For more info on this book,
here is a link
that will take you directly to Tyndale House Publishers.
Giveaway
To enter for your chance to win a copy of As One Devil to Another, simply leave a comment below in the comment section, with your email included, so I can contact the winner for their mailing address. This drawing will be open for a little over a week, so you have plenty of time to join, and I'll be announcing the results next Friday, May 4th.
As a way of saying thank you, I'll also award a bonus entry to anyone that already is a follower, or decides to start, following my blog.
(I'll only be accepting entries within the U.S.)
Thanks so much for stopping by!
As a disclosure, I received a complimentary copy of this book from Tyndale Publishers in exchange for my honest review. I also received a certificate for one complimentary copy of this book to be given to the winner of this giveaway.